"X PERSONALITY TEST WHICH IS BASED ON MBTI (MYERS-BRIGGS TYPE INDICATOR) THEORY REFLECTS EXACTLY WHAT YOU SHOULD HAVE KNOWN LONG AGO ABOUT YOURSELF."
Join millions of people worldwide who have taken test each year to discover your true personality type.
Take free test now
What is MBTI personality test?
An introduction of the Myer-Brigg Type Indicator
Having been studied since 1917, MBTI can be considered the most popular method of personality examination today. MBTI stands for Myers-Briggs Type Indicator – a method of personality identification through a series of multiple-choice questions of 16 personality groups. This method of personality indicator is derived from the taxonomy theories in the book Psychological Types of Swiss psychiatrist Carl Gustav Jung, published in 1921 and developed by Katharine Cook Briggs and her daughter, Isabel Briggs Myers, from around World War II. Psychological questions initially evolved into the Myers-Briggs Type Indicator and published in 1962.
The MBTI personality test is based on each person's responses to infer their unique personalities. MBTI answers the question of why everyone in the world has a different character and no one is the person. Today, MBTI is gaining popularity and used as a fairly accurate personality classification method, helping people understand themselves and those around them or pursue suitable careers.
Based on result of the MBTI test, examinee will know which of the following 16 MBTI personality groups they belong to:
Analysts
Diplomats
Sentinels
Explorers
The formation and development process of the MBTI test
From the years 370 BC, Hippocrates made a statement about the idea that from the moment of birth, people have formed distinctive personalities and have a determined tendency to act. Then in 190 AD, that idea continued to be developed by Galen, the Roman doctor, and it became a mainstream trend in the fields of medicine, philosophy, literature until the XIX century.
Besides, there is also an opinion that people are born as a white paper that can be drawn and shaped on it. After that, this idea became the mainstream thought in the early XX century. The typical people of this school were Ivan Pavlov and John Watson. Researchers also believed that people were fundamentally the same when they had the same motivations and that either instinctual desires (according to Sigmund Freud) or desires to bring social unity (according to Harry Sullivan).
At this moment, existentialists like Carl Rogers and Abraham Maslow were supported by psychologists, who also conducted their research. As a result, it has all come to the consensus that humans have a single underlying motive.
Returning to the MBTI personality test, Katharine Cook Briggs's research derived from the event when she met her future son-in-law in 1917. Observing that there were obvious differences between his personality and other family members, Briggs began to mull over a biographical project and then developed a category in which she proposed four types: meditative (or thoughtful), spontaneous, executive, and social.
By chance, around the mid-XX century, Isabel Myers, a completely amateur character, accidentally approached Jung's research book and with the help of her mother, Kathryn Briggs, she has successfully produced a set of questions that help shape the 16 personality groups. Myers joined her mother's taxonomy research and gradually took over it completely.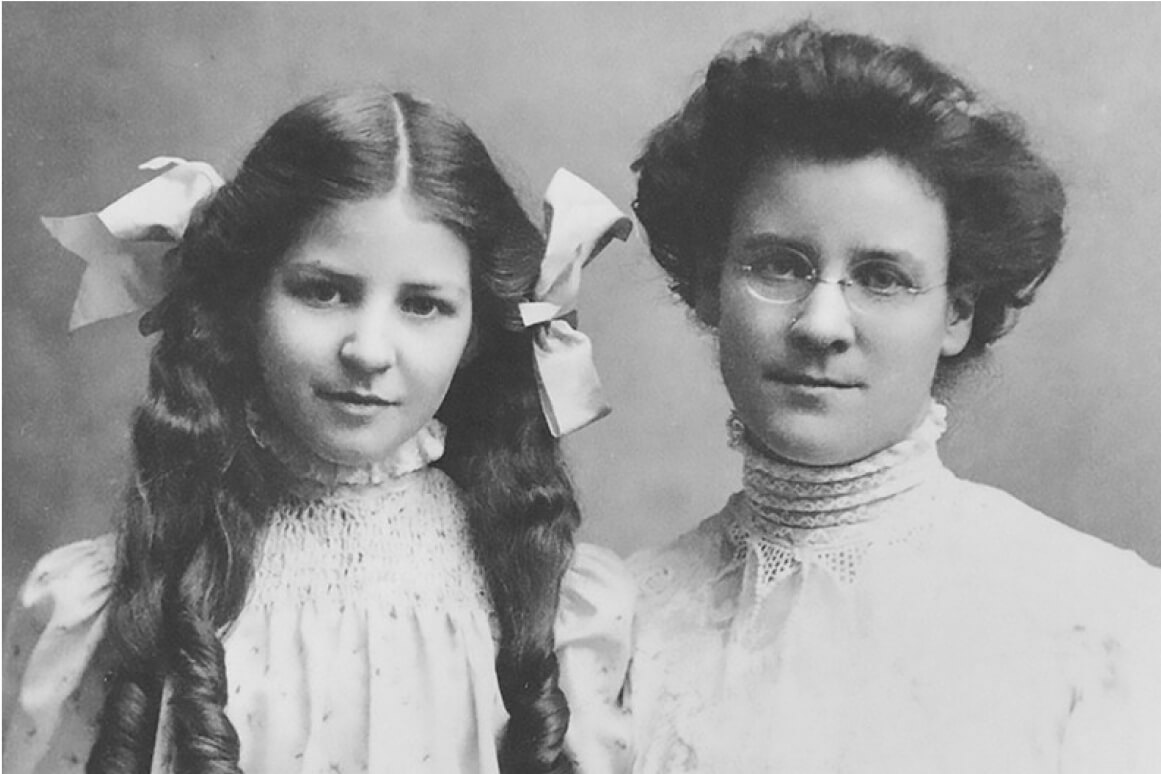 Briggs and Myers
During World War II, Briggs and Myers began to create personality indexes in the belief that knowledge of personality preferences would help women enter the industrial workforce for the first time.
In 1944, The Briggs Myers Type Indicator Handbook was published and renamed the "Myers-Briggs Type Indicator" in 1956. Myers's work has drawn the attention of Henry Chauncey, head of the Educational Testing Service, which led to the publication of the first MBTI Manual in 1962. MBTI received additional support from Donald W. MacKinnon, head of the Institute of Personality and Social Research at the University of California, Berkeley; W. Harold Grant, a professor at Michigan State University and Auburn University; and Mary H. McCaulley of the University of Florida.
In 1975, the publication of MBTI was transferred to Consulting Psychologists Press and the Center for Applications of Psychological Type that was established as a research laboratory. After Myers's death in May 1980, Mary McCaulley updated the MBTI Manual and the second edition was published in 1985. The third edition appeared in 1998. Thanks to this study by Myers and Briggs, the MBTI personality test has grown in popularity, with as many as 1 million people taking the test every year since the 1990s. Within 50 years, the documenting system of the MBTI test tool has increased 150 times from 81 documents to 12,140 documents according to the statistics of the CAPT Center, 2011.
Today, MBTI is a widely used tool in the world with 18 different languages. Approximately 80% of companies on the Fortune 500 list use this method of analyzing employees' personalities, helping to put them in the right position that matches their personality. The MBTI is a test but requires an expert to read the results. After the test, there will be a round of face-to-face interviews with psychologists. In the United States and other countries, The Myers-Briggs Type Indicator, Myers-Briggs, and MBTI are registered trademarks of The Myers & Briggs Foundation. Xpersonalitytest.com is not linked with any publications and does not own the rights to MBTI® assessments. The X personality test is based on Myers-Briggs theory, however it is not the same as the MBTI® assessment. Experts who want to analyze the results of MBTI must go through training and certification by this organization.
Science-based theory of MBTI personality test
It can be said that Jung's theory in his book, Psychological Types, published in 1923 (first published in German in 1921) is the premise for Briggs' work when she realized that there were similarities. In which, he thinks that humans have 4 main cognitive functions: thoughts, emotions, senses, and intuition. These functions closely resemble the 4 dichotomous pairs of later MBTI. However, this theory is completely based on Jung's subjective observations and personal experience instead of objective scientific evidence. He explained that humans have innumerable instincts motivated from within and that we will naturally lean towards Introversion – Extrovert, Sensation – Intuition, Feeling – Thinking.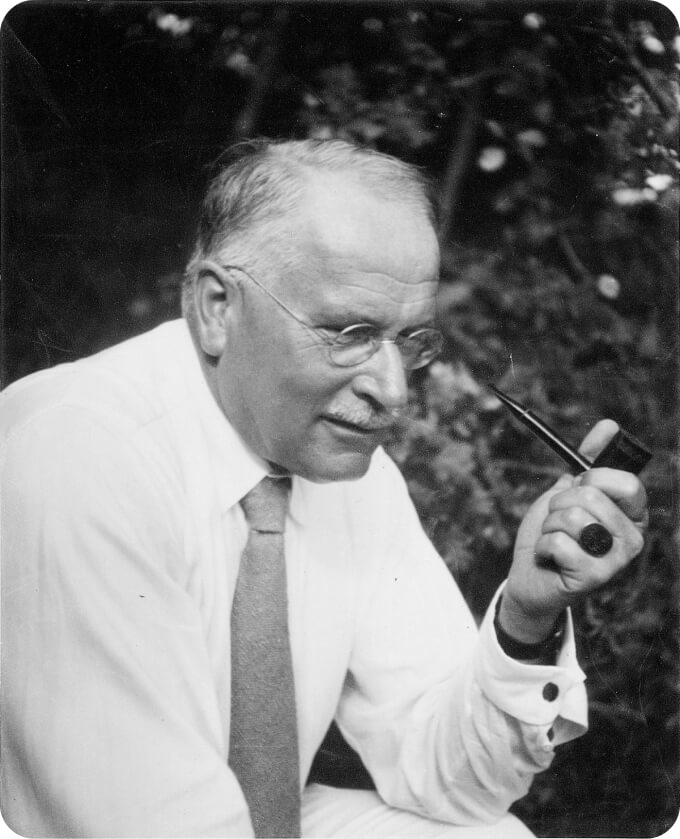 Carl Jung
The fourth pair has been implied but was not fully developed in his work. In the book, Jung argued that "Every individual is an exception to the rule" (p. 516). This should keep in mind that no description of any personality type can explain all aspects of the whole person or the psychology of an individual. Besides, Jung compared his model of personality with points on a compass: "They are just as arbitrary and just as indispensable," and added, "I would not for anything dispense with this compass on my psychological voyages of discovery" (p. 541).
Later, Myer and Briggs added the fourth element: Judging – Perceiving (principle/flexibility) – a way to influence the outside world and developed a classification system of 16 personality types from the above 4 criteria. Each of the 16 classified personality traits has different characteristics and properties, and this classification system not only identifies the traits but also helps analyze, interpret, and predict the behavior of each different personality traits of individuals.
In 1956, David Keirsey also happened to have access to the research on the MBTI personality studies. Realizing his excitement when reading a description of his personality, he decided to embark on a study and published the book "Please understand me" in 1978 and "Please understand me II" in 1998. The two books immediately became the focus of attention and later became a useful resource for readers interested in the MBTI personality test.
Before reading about Jung's theory, Briggs also developed her hypothesis, under which individuals can be divided into four main temperament types: meditative, spontaneous, executive, and social. This hypothesis is also based only on her observations of individuals in the family. When Myers and Briggs developed the MBTI assessment, their mission was to make Jung's theory of personality types accessible to the general population.
At the same time, anthropological studies of human personality (which is a way of looking at facial features to analyze and predict personality and behavior) have also been reviewed by several other researchers. But psychology was gradually dominated by Freud's "psychodynamic" theories or Pavlov's "conditioned reflexes". That makes these studies along with Jung's research forgotten.
4 personality classification criteria in the MBTI system
MBTI is based on 4 main criteria, which are 4 pairs of categories around the human worldview, used to evaluate and analyze human personality.
Natural trend: Extroversion/ Introversion
The first group in the category of the MBTI personality test is the natural tendency group, Extraversion/ Introversion, which are the two opposite trends. These are the behavioral tendencies that one can face to the outside world at the same time with themselves. This criterion is represented by the first letter in the personality group: E - I, representing the tendency in which each individual uses his or her energies, thoughts, and feelings.
An introvert is a person with withdrawal tendencies, including thoughts, feelings, and imagination. An extrovert is someone who inclines the outside world, including activities, people, and things.
Understand and perceive the world: Sensing/ iNtuition
In the MBTI personality test groups, the pair of understanding and perceiving the world, Sensing/ Intuition, is the tendency to show the opposition in the way people manifest to perceive the things and phenomena around them. Represented by the second letter in the N or S personality group, world perception is the tendency that each person chooses to absorb outside information.
Humans comprehend the world around them through specific senses, for example, vision will recognize colors and images, smell and sound will be perceived and analyzed through hearing. Also, the 5 special senses are continuously arranged together, classifying most of the simultaneous real events to easily provide back information that has taken place in the past.
If intuition is used to perceive the world, then the brain is the unit that is responsible for understanding, interpreting, analyzing, and paraphrasing information models from which to collect all the data streams before and after, at the same time arrange the models and relate them together. At this point, the brain must operate as hard as possible to speculate and estimate the future.
S-group individuals perceive the world through specific senses such as sight, nose, smell, hearing, image, smell, and sound. They are sharp with reality, believe in the world the way they are perceived through the 5 senses. In contrast, the world of the individuals of group N tends to be more intuitive (including the models, the imaginations they deduce and arrange from the data they collect).
Decisions and choices: Thinking/ Feeling
In the MBTI personality test, Thinking/ Feeling are two opposite tendencies in the way in which people choose an option or answer for a particular problem. Represented by the third letter in the personality group T or F, this criterion shows the tendencies that each person chooses and feels most natural when making decisions.
In the human brain, the most considered part is the reason, its role is to find out relevant information based on right or wrong, left or right. Then, logically using inference and directly giving the most specific answer, with the most reliable and most scientific basis.
Besides, the emotional part will, at the same time, consider the matter based on the overall issues of emotion, and those factors interact with each other without being able to make a clear statement, that is the nature of emotions determined by the brain.
The T-group will make a decision based on the identification of relevant information, right and wrong criteria. They always deduce logic to give the most precise and scientific answer. On the contrary, the F-group will choose based on feelings, such as love, hate, adore, detest.
Method of Action: Judging (Principle)/ Perceiving (Flexible)
The final group of the MBTI personality test is the way people choose to show their impact on the outside world. Represented by the 4th letter in personality category P or J, this criterion represents the lifestyle of each person.
In this way, one's brain works based on previously planned principles. To achieve a specific and prepared plan, all will be approached clearly and naturally. To get fit with the circumstances and the plan outlined earlier, people sometimes have to accept change.
Individuals in group J have a principles-based way of acting that will plan and provide a roadmap in the process of conquering goals. In contrast, group P – the group of flexible people – sometimes accepts changes in contradiction with the original plan to suit the actual situation to bring the most optimal rs at a specified time.
4 temperament groups in MBTI
Dr. David Keirsey has identified four basic human temperaments: Artisan, Guardian, Idealist, and Rational in his book Please understand me I and Please understand me II. This division is based on 8 alphabets: E (Extraversion), I (Introversion), S (Sensing), N (iNtuition), F (Feeling), T (Thinking), J (Judgment), and P ( Perception); and the interplay of two basic quantities that make up human behaviors: communication and actions, words and behaviors, or more specifically what we say and what we do. Each temperament has unique and distinct strengths and talents.
Communication: specific/ detailed or abstract/ general
Firstly, people talk and love to talk about what they are interested in, and their conversations often revolve around two main trends. There are people who focus primarily on facts, what is specific, work events, entertainment, family; their stories and words answer the questions: who, what, where, when, how. While others focus mainly on their ideas, abstractions, doctrines, hypotheses, dreams, beliefs; their stories and words answer the questions: why, if, what will happen when. At the same time, maybe people will say these things interchangeably, but in everyday life or in most conversations, concrete people talk about facts while abstract people talk about ideas.
Action: utilitarian/ practical or cooperative/ collaborative
Secondly, at every turn, people are always working hard to fulfill their goals, and two opposing trends in their actions will be revealed if observed closely. Some people act primarily on usefulness, they will think about the benefits, effectiveness, and results of what they do and will only do things that they already know how to do. Others act on cooperation and socially acceptable ways, that is, they strive to do what is right, uphold the norms that have been confirmed and followed by the whole society, only after doing it do they pay attention to the effectiveness of their actions. These two behaviors are interchangeable and each individual will lean toward a trend he/she performs most often and feels most comfortable with. In other words, utilitarian people often do what works while cooperative people often do the right things.
From the above criteria, David Keirsey divided the 16 personality types of MYERS-BRIGGS TYPE INDICATOR into four temperaments:
As concrete and cooperative people, The Guardian – SJ are the people who are most concerned with their duties and responsibilities about the things they must care about and worry about, always obey the rules and respect the rights of other people. The SJ group includes ISFJ, ISTJ, ESFJ, and ESTJ.
As abstract and cooperative people, The Idealist – NF are people who care about others and communal ideas, and all of their actions must be based on their conscience. The most important thing to them is that everyone in their communication circle is comfortable and has a good relationship with them. The NF group includes INFJ, INFP, ENFP, and ENFJ.
As concrete and utilitarian people, The Artisan – SP are the people who care about what they see in front of their eyes, the facts, the things that help them reach their goals quickly and effectively, even if they have to break the law. The SP group includes ISFP, ISTP, ESFP, and ESTP.
As abstract and utilitarian people, The Rational – NT are the people who care about the problem and how to solve it. They do what really works and they claim that everything they do is reasonable, highly persuasive, and has its own purposes. They can ignore existing principles and conventions if they need to. The NT group includes INTP, INTJ, ENTP, and ENTJ.
16 personality types characters
The 16 MBTI personality groups are a harmonious blend of all four criteria mentioned above. Below is a brief overview of these 16 groups, including the personality traits, strengths, weaknesses, and career recommendations that are appropriate for each group.
ENFJ – The Giver
ENFP – The Champion
The results of the personality test show that ENFPs are curious, idealistic, and quite mysterious because they are always searching for meaning and genuinely interested in other people's motives. So they see life as a very large horizon, there are many puzzles in which everything is related but has not been decoded.
ENTJ – The Field Marshal
The ENTJ group is very charismatic. They are rational and sensitive people because they are very competent in guidance and have a very inspirational way of communicating with others. Of all the personality groups, ENTJs have the best leadership and they believe that once there is determination, anything is possible.
ENTP – The Visionary
The ENTP is very clever and unique. This trait gives them great advantages when participating in debates, academic, and political fields. Besides, in many other areas that require a willingness to challenge existing ideas or hold a lot of discussions, they also tend to do very well.
ESFJ – The Provider
ESFJs are pragmatic, altruistic, and good at teamwork. They are also traditional and will do their best to support and defend their righteousness. Therefore, ESFJs tend to be very devoted even in situations where they act as hosts at parties or social workers.
ESFP – The Performer
This is the group that likes to be the center of attention but they also enjoy the simplest things. What makes them attractive to others is their cheerfulness and passionate nature, so they will never run out of ideas, their curiosity is also limitless.
ESTJ – The Supervisor
Supervisors are those who tend to be more principled, traditional, and stable. ESTJs feel that they need to be attached to something, maybe their family, a community, or another social group. They like the organization of others and also guarantee that they will follow the traditional rules, which are enacted by those in authority. These people are suitable for jobs such as police, bodyguard, firefighter, military, court, lawyer, health education, consultant, the social worker.
ESTP – The Doer
The MBTI personality test referring to ESTP is a group of performers who are very collective, spontaneous, frank and like to act. They always get to the core of the problem, so ESTPs don't like to engage in theoretical debates or have to think about the future – they just express their focus on the present moment and also do their best for the things they are passionate about.
INFJ – The Counselor
INFJs are groups of people who often have a strong opinion, especially on issues that they consider the matter. Therefore, if the INFJ group shows a struggle for something, the main reason is that they have faith in their ideals.
INFP – The Idealist
The INFP group is usually those who are considered calm and reserved. However, the flame and passion are still intense within them, unlike other personality types, they are genuinely emotional and have high compassion.
INTJ – The Mastermind
The personality test shows that people in the INTJ group are often seen as very intelligent and mysteriously complicated. Therefore, they often radiate the confidence required based on their vast knowledge in many different fields and perspectives.
INTP – The Thinker
Thinkers love theories, they believe that anything can be analyzed and improved. The mundane world and other realities are not what they care about – they think that its enjoyment is nothing compared to systems of ideas or pursuit of knowledge.
ISFJ – The Protector
The ISFJs are the most altruistic hence their career path often involves academic, medical, social work, or consulting fields. Besides, they also shine in the positions of personnel administration and offices, even in the field of interior design.
ISFP – The Composer
ISFPs are of the introverted personality type, they are most often associated with spontaneity and unpredictability. The ISFP's distinctive feature is variability.
ISTJ – The Inspector
The most popular group out of 16 of the MBTI personality test is the ISTJ. People in this group tend to respect the truth, absorb a lot of information, and can remember them for a long time.
ISTP – The Craftsman
The ISTP group possesses many interesting features. People in this group often have a very reasonable and logical mindset but sometimes they can also surprise people by their unexpected spontaneity and enthusiasm.
Concerns of psychologists about the MBTI test
Contrary to its popularity and commercial success, MBTI is largely overridden by the entire community of psychologists. This test is very rarely mentioned in studies published in prestigious journals of psychology, except for critical articles of MBTI. The only journal that regularly has an article about MBTI is "The Journal of Psychological Type", but this is the magazine that is financed by CPP.
Neither Myers nor Briggs had formal training in psychology, and both taught themselves in the field of psychological testing. Myers, therefore, apprenticed herself to Edward N. Hay, who was then the Chief Human Resources Officer of the large Philadelphia bank and went on to found one of the first successful HR consulting companies in the United States. From Hay, Myers learned rudimentary methods of constructing, scoring, validating, and testing statistics.
"There's just no evidence behind it," said Adam Grant, an organizational psychologist at the University of Pennsylvania who's written about the shortcomings of the Myers-Briggs previously. "The characteristics measured by the test have almost no predictive power on how happy you'll be in a situation, how you'll perform at your job, or how happy you'll be in your marriage". Grant concluded on Jung's research: "Carl Jung was a pioneer in terms of really creative and novel theory and ideas, but a lot of his work was done before psychology was an empirical science". What was even more degrading, he stated, was that Katharine Cook Briggs and Isabel Myers created the framework in their living room before doing any well-established scientific research, rather than the other way around.
"This is a shortcoming because people don't fall neatly into two categories on any personality dimension; instead, people have many different degrees of the dimension," said Michael Ashton, professor of psychology at Brock University in Ontario, "Many personality psychologists consider the MBTI to be a somewhat valid measure of some important personality characteristics but one that has some important limitations".
Meanwhile, even one of the psychologists on the board of CPP, the distribution company MBTI, did not use MBTI in its research, "In part, because it would be questioned by my academic colleagues", stated Carl Thoresen, a Stanford psychologist and CPP board member in the Washington Post in 2012.
In other words, MBTI is a product of pure speculation and hypotheses without any serious scientific evidence to support it.
The accuracy of the MBTI test
Validity
The validity indicates whether an assessment tool can measure its audience. Specifically, in this case, is whether the test can accurately identify and classify personality types. MBTI test's validity based on Briggs' 4 dichotomous pairs is not highly considered.
In reality, human personality should be described in terms of level, like more or less extroverted, rather than just two extremes: either introverted or extroverted. The percentage of people who are either absolutely introverted or extroverted is almost nonexistent. Nearly all of us fall between those two extremes.
Many of MBTI's questions force the respondent to choose between two extremes. For example, the answer to the question "You tend to sympathize with others" is only either "Yes" or "No".
Most scientific studies have proven that personality classifications also follow the standard distribution of statistics, meaning that the majority will fall in the middle, and only a few are near the 2 extremes. Accordingly, about 68% of the population can be considered slightly introverted/ extroverted. Only 16% of people can be assumed as very introverted and the other 16% very extroverted. Therefore, MBTI does not accurately indicate human personality in reality.
Reliability
Reliability shows the consistency of the test. If the test is done many times with the same person, with the time between tests not too long, the results should not change. According to this criterion, the MBTI test is also unsatisfactory. Research has shown that if we do this twice, there is a 50% chance that the results will be different, even though the interval between 2 times is only 5 weeks. The generally accepted standard in the field is in the range of 70% – 90%.
Applicability
Due to its average validity and reliability, MBTI's applicability is only recommended in the media or entertainment sectors. A National Academy of Sciences committee in 1991 assumed, based on data from MBTI studies, that "not sufficient, well-designed research to justify the use of the MBTI in career counseling programs". The committee emphasized the lack of evidence to conclude the test's utility, "the popularity of this instrument in the absence of proven scientific worth is troublesome".
Although MBTI is often promoted as an effective tool for determining job relevance (determining which career you should choose), researchers have confirmed that the percentage of MBTI personality groups in different occupations does not significantly differ and is almost equivalent to the general proportion of the entire population.
Therefore, MBTI is essentially unusable in predicting the likelihood of what kind of person will succeed in specific occupations. Even the MBTI documentation mentions asking candidates to take the test as a criterion for selection is inconsistent with corporate ethics and can be illegal at times. These documents also discourage the use of the MBTI test to predict the success of individuals in the profession. Yet, millions of people seem to ignore these warnings and continue to use this test with the wrong intentions.
What Myers-Briggs Type Indicator Test can do?
People are drawn to tests like MBTI because of the desire to understand themselves and others. Ashton said: "The four dimensions from which the MBTI types are derived are all useful ones for describing people's personalities"
And even if the MBTI results don't quite match your intuition about yourself or are just mistaken, they can still provide insight. A former employee at Bridgewater Associates did the test and concluded that although MBTI doesn't fully describe an individual, its value lies in the push "to reconcile the gaps between what the test results tell us, and what we know to be true about ourselves". Here are some common uses of the MBTI test
Business-oriented environments:
Develop leadership;
Team building;
Screen and interview employees;
Career selection;
Consider team and organizational culture.
Personal-oriented developments:
Self-growth;
Work with groups;
Understand stress responses;
Career development;
Working relationship;
Communication style;
Conflict resolution;
Change management;
Problem-solving.
Differences between the MBTI test and other personality classification tools
MYERS-BRIGGS TYPE INDICATOR versus DISC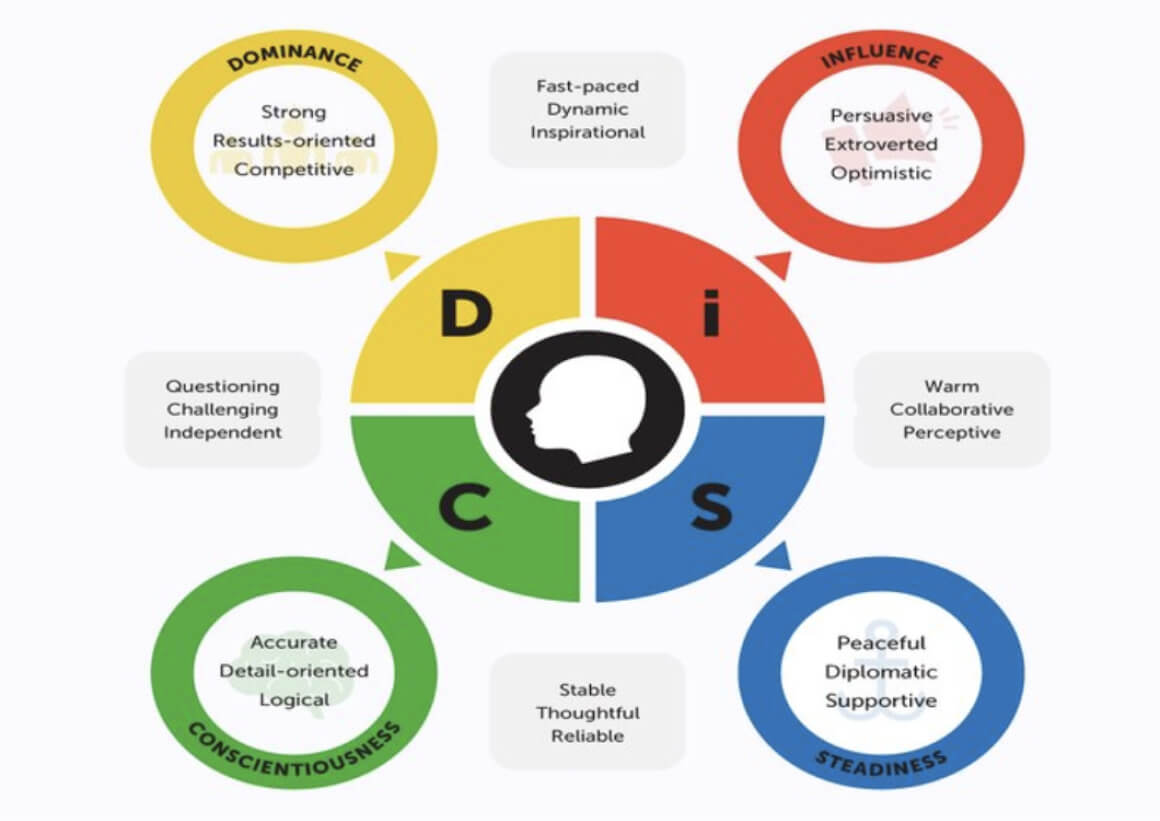 DISC is a professional test tool that identifies the personality of a person at a given time by observing their behavior based on the research of psychologist William Moulton Marston. Both DISC and MBTI are assessment tools that provide insight into personality and behavior. Both are known and widely used by individuals, organizations, and corporations worldwide. However, there are noticeable differences between DISC and MBTI:
The DISC test is shorter than MBTI (typically 24-30 questions for DISC vs. 90 questions for most MBTI tests).
DISC focuses primarily on four predominant types of behavior. According to the DISC theory, each person's personality is in 4 behavioral patterns: D – Dominance, I – Influence, S – Steadiness, C – Compliance. There are four main opposite categories of personality that DISC uses: Direct >< Indirect, Task-Oriented> < People-Oriented.
The MBTI assumes that personality is fixed and unchanging, while DISC extends the possibility that different situations and environments can result in different behavioral traits within an individual.
The MBTI is largely an indicator of how people think internally while DISC measures the simulated inner personality to the outside behavior.
MBTI versus Big Five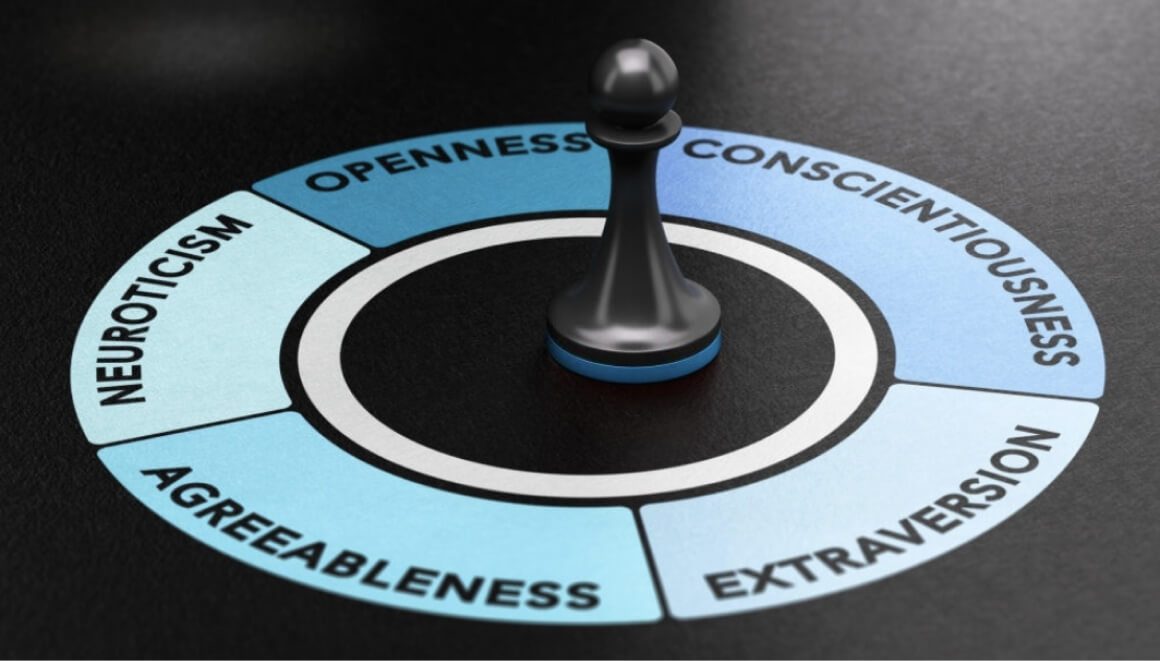 The Big Five test (also known as the OCEAN test) is based on the 5 most basic aspects of human personality, namely Openness to Experience (O), Conscientiousness (C), Extraversion (E), Agreeableness (A), Neuroticism (N). This test was recognized more than 100 years ago and has been followed and completed by many psychologists until today. The standard test is designed statistically and things to measure are 5 specific traits that are completely noticeable in everyday expression, so its validity and reliability are quite high.
The difference between Big Five and MBTI is that this model of Big Five does not label an individual's personality type on which group but to check how many percent or how many points the individual has on each of the five aspects listed above.
Besides, according to personality psychology, it is possible to analyze human personality under six models: Dispositional, Biological, Intrapsychic, Cognitive/Experimental, Social and Cultural, and Adjustment. This means that human personality is fixed from birth, inherited from parents, and changes according to their environment and experiences.
Although MBTI is widely used, it is a bit inflexible in classifying or labeling a personality type, ignoring the fact that personality can change over time and the environment. Meanwhile, the Big Five model is widely used in research because it does not classify the human personality, but instead marks the five aspects of their inherent personality in continuity, including the factor of human personality that will change.
Therefore, it can be concluded that the validity and reliability of the Big Five are higher than MBTI since its variation is not too different.
MBTI versus Enneagram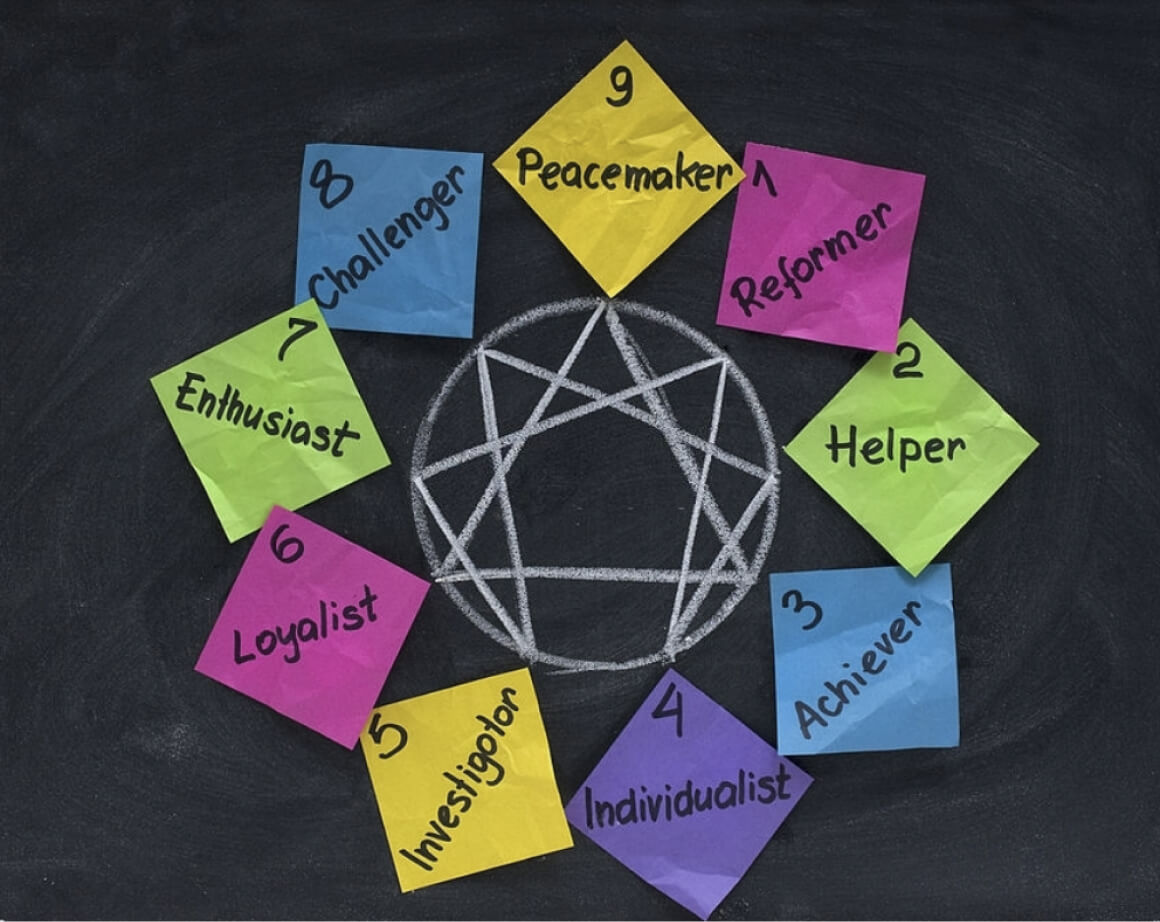 Enneagram is based on a combination of natural personality traits and the impact of the individual's surroundings. According to this test, a person's personality is not fixed but always changes depending on the environment and external influences. The nine types of Enneagrams correspond to certain habits of an individual's thinking, emotions, and behavior according to a unique developmental path: 1 - The Reformer, 2 - The Helper, 3 - The Achiever, 4 - The Individualist, 5 - The Investigator, 6 - The Loyalist, 7 - The Enthusiast, 8 - The Challenger, 9 - The Peacemaker.
The biggest difference between MBTI and Enneagram is that MBTI focuses on nature, while Enneagram favors nurture. The reason Enneagram is so popular in career orientation at the secondary level is that it offers a two-way assessment of existing personality and external impact. The results from this test are therefore much more realistic.
Despite having an equivalent level of complexity to MBTI, the Enneagram with the approach of "Basic Fear" and "Basic Desire" is much easier to design the test than MBTI. Therefore, Enneagram's validity and reliability are relatively satisfactory compared to MBTI (but still not very effective compared to other tools).
The orientation of the MBTI personality test
Although Isabel Briggs Myers initially used the test as a tool to choose a career, gradually it became a tool to help her in every aspect of her life. She viewed it as an important tool in pursuing a career, education, marriage, and relationships. She claimed that she had a happy married life thanks to her ability to perceive personality types, explaining that the difference between her (INFP personality) and her husband (ISTJ personality), they easily understood and sympathized with each other after using the MBTI test.
The classification has become a part of Myers's life and her family members have said that in the last few years of her life, she was talking about nothing else but MBTI. She desires to want people to see their strengths and to help them understand that they can best contribute to the world around them. Her relentless effort in promoting the classification test is the assertion that the tool will certainly be of great benefit to anyone accessing it. At the last professional event in her life, she told a colleague: "I hope that long after I am gone, my work will go on helping people".
This is not a test designed to accurately classify people, but a test designed to make people feel happier after doing it. This is one of the reasons that MBTI has existed for a long time in the corporate world despite being rejected by psychology. Ultimately, it is not the MBTI label, but the power of inner examination that fosters insights and sometimes motivates to take steps to change a person's condition.
The spillover effects of the MBTI test in practice
Application of MBTI in Corporate Management
The results of the MBTI personality test not only affect an individual, but also a large group with a complex structure. The MBTI test is an indispensable tool if you want to lead and manage a successful business. Corporate management is largely related to HR management: recruitment of personnel, company culture, or the roles of leaders.
Recruitment of personnel
The MBTI test is a tool that helps recruiters analyze candidates' personalities, from which they know their strengths and weaknesses based on classification according to 16 groups. The candidates' personalities are very important besides their expertise. Employers will rely on the result of the test to assess whether candidates are suitable for the environment and people of the organization or not. It's part of the MBTI test used for HR recruiters.
Human Resource Management
When recruiting candidates suitable for company culture, administrators will need to have human resource management methods and solutions to bring about the highest work efficiency. In addition to analyzing the personality of each group through the MBTI test, there is also an analysis of the performance of each group in the working process – this is very valuable information for administrators.
An important criterion in human resource management is the understanding of employees. The purpose of this criterion is to know how their personalities are, their reactions to working pressure, how they work in groups, and employees' ability to focus and create.
Knowing the above factors will help administrators to allocate proper positions and tasks to corresponding individuals, have appropriate discipline and reward criteria, organize the corporate work ethic to minimize conflicts between employees, and optimize the overall performance of the organization.
Support the formation of the corporate culture
The selection of employees according to the application of the MBTI test partly provides administrators with a qualitative tool for their corporate and organizational character. Based on MBTI's classification system and other studies, in 2011, Stanley D. Truskie, President and CEO of Management Science and Development Inc., United States, developed 4 trends to build a successful corporate culture model – The L4 model:
Cooperative patterns (based on SF personality groups) with key elements in corporate culture including cooperation, teamwork, diversity.
Inspiration patterns (based on the NF personality group) with key elements in corporate culture including challenge at work, connections, career development, training and improving skills, as well as motivating and inspiring employees.
Achievement patterns (based on NT personality groups) with key elements in corporate culture including discovering and advancing towards excellence.
Consistent patterns (based on ST personality groups) are trends that emphasize the importance of discipline in corporate culture to be able to develop stably and sustainably.
Application of MBTI in Career orientation
Personality has a great influence on the career field, so the results of the MBTI test are also developed and oriented for career tests. Below is a summary of the work fields that are suitable for 16 MBTI personality groups:
ENFJ – The Giver: They are suitable for a work environment with a lot of support and encouragement, especially in the jobs that have to communicate with people and understand others such as Diplomat, Psychologist, Social Worker, Teacher, Consultant/ Advisor, Human Resource Manager, Event Organizer, Writer.
ENFP – The Champion: they do very well at jobs that require interesting ideas and have a large audience to keep them for a long time such as Consultant, Writer, Journalist, Reporter, Actor/ Actress, Entrepreneur, Lawyer, Journalist, Researcher, Programmer, Computer Systems Analyst.
ENTJ – The Field Marshal: ENTJs are very suitable for the role of organizing and leading such as Entrepreneur, CEO, Judge, Teacher.
ENTP – The Visionary: they are suitable to work in many fields, especially those that can freely pursue creativity. The suitable positions for the ENTP group: Lawyer, Advisor, Entrepreneur, Scientist, Engineer, Photographer, Sales Representative, Actor/ Actress, Personal Marketer.
ESFJ – The Provider: they will do a good job related to maintaining order and structure, besides, they feel comfortable doing things that serve people.
ESFP – The Performer: they are suitable for jobs that allow them to use their excellent communication skills, they don't like being constrained by theories.
ESTJ – The Supervisor: they are suitable for jobs that require setting up order and structure.
ESTP – The Doer: They are suitable for roles that require thinking, reacting quickly, and without any complicated regulations.
INFJ – The Counselor: They are suitable for careers related to a mission to create something meaningful.
INFP – The Idealist: They should work in areas that allow them to live daily life according to their values while bringing many good things to humanity such as Writer, Musician, Composer.
INTJ – The Mastermind: They usually associate their careers with independent thinking and have complete insight into something.
INTP – The Thinker: They should go down the path of finding and analyzing basic principles and ideas in an independent working environment.
ISFJ – The Protector: They should choose jobs in which they can apply their great observation and organizational ability.
ISFP – The Composer: Most famous artists in the world match the ISFP personality group.
ISTJ – The Inspector: They maximize their capabilities with jobs around traditional characteristics, authority, security, or logical facts.
ISTP – The Craftsman: They show their best when working independently or in an environment with enough flexibility where they can apply excellent reasoning skills or solve real problems.
Application of MBTI in Education
The MBTI test or other personality tests are great tools for teachers, coaches, and educational professionals. Classification of 16 personality groups in MBTI gives them a standard system of classifying human personality and recognizes the trend and natural ability of their students, from which to classify and build up specific directions for each type of personality.
The Myers-Briggs Type Indicator test also helps each individual to better understand himself/herself so that he or she can act as his/ her coach, find out the most effective way of learning as well as choose the direction for future development. Besides, the MBTI test equips individuals and educational institutions with effective soft skills orientations such as teamwork skills, problem-solving skills, conflict resolution skills, and leadership.
In summary, the MBTI test supports in the education sector include teaching and learning methods, specialization of the curriculum at different levels, and adapting education and training to diverse cultures.